Cost Estimating Services:

1. Cost Estimation / Bill of Quantities
2. Tender Document
3. Contract Financial Administration




1.Cost Estimation / Bill of Quantities
The primary purpose of preparing a budget is to understand and control costs. Beginning with the estimates, one is able to determine the total cost amount for the style and size of a home on a particular stand. At the very least an owner should be able to consider if the project is feasible once an estimate is made.
Estimating Services was established to provide Owners, Builders, Architects and Project Managers with affordable construction cost estimates for Domestic and Commercial projects. This service is an ideal solution for those that do not have either the time or resources to do detailed product cost analysis.
Unfortunately, the only way to be sure that your building project budget is feasible is to identify and price every item that will be used to build your individual project with all of the associated subcontractors and materials. Of course, in order to do that, you will need to have plans and specifications to develop a complete and thorough estimate for your project. Start by determining how much you can afford to spend, then be realistic about the size of the house you need, and finally, decide what and where you can afford to build.
A project estimate is a financial plan for your entire Building process. It is the Rand equivalent for all the work it takes to design and build your home / project.
Build Support has the full capability to perform a cost estimation and bill of quantities at any point before or during construction and will apply current local market related prices to produce an estimate. We can even work on the very early stages of your sketch plans to determine the actual size of your house relating to your budget. One does get carried away and in many cases might need to cut back on the architectural design. Early and accurate planning can save you time and money! Be well equipped to make well informed decisions. We will provide and assist you with the appropriate tools to be in control and be part of the process! Once this has been done you can hand it over to a carefully picked skilled team or contractor to perform the task.
We provide a variety of services to: Financial Institutions, Architects, Construction Companies, prospective home owners or any individual involved in Residential, Domestic and Light Commercial projects.
We must categorically state that there really is no such thing as a standard building rate per square meter. Because no two structures are the same, no two building costs are the same. This does not just relate to the finishes in a building, as finishes on average only make up between 20 – 30% of the total building cost.
Cost Estimating Advantages
• Will help determine the size of your project early on before final plans are drawn.
• Accurate budget with no unpleasant surprises.
• Correct Quantities of all building materials eliminates wastage and overspending.
• Market related costs are portrayed throughout the costing as to material, labor and Sub Contractors fees.
• Being well informed streamlines your Building Expenses using your Cost Estimation as a guide.
• Estimates and cost advice during all stages of the development of a project.
• Clients want to know that they are receiving value for money.
• Build Support Services will Save you Money.
• We can provide a document which could be utilized to apply for a bond or loan.
Costing Program on CD (Microsoft Excel)
It is easy and simple to use, making it user friendly, yet a powerful tool.
This tool empowers you to take part and adjust and edit your budget accordingly.
Once an cost estimate is received you can shop around for competitive prices showing savings.
You can keep track of all expenses which initially started off as an estimate.
It allows you to be a role player where you have the capacity to be hands on right through the project.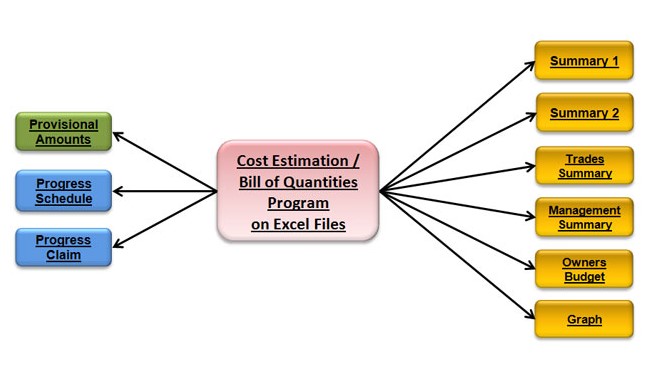 2.Tender Document

Why a Tender Process?

This additional service was created seeing and experiencing individuals utter confusion once they give out their plans for quotes to different building contractors. Quotes range from extremely high to average and low. With a tender invitation document every tenderer is quoting on the same quantities and personal choice items. Only then a well informed comparison can be made and with everybody on the same page the guess work is eliminated allowing you the client to make the right choices. By using a Invitation to Tender process, you can ensure that you choose the best available Contractor, at the best price.
What is a Tender Process?
Construction Tenders are written offers from contractors to undertake a Construction work defined by drawings and specifications, in return of a certain sum of money.
Most professionals will agree that the main objectives of tendering is two fold: firstly, the tendering process enables the employer to secure a suitable contractor to carry out the intended works at a competitive price; secondly, the process provides a level platform for tenderers to understand the requirements of the intended works and the various risks involved in carrying out the works before deciding on the tender price.
When all the preliminaries are completed and the owner has decided to proceed with the work, tenders are invited. Legally this is an attempt to check if there would be interested contractors to carry out the work within the estimated limit of time and finance. The invitation to Tender is not binding to the owner to proceed with the work and does not cause any liability for any expenses to which contractors would spend in preparing and submitting their construction tender.
A Tender Process (or "Invitation to Tender" process) is a method by which Contractors are selected for the Construction Process. The process involves creating a suite of Tender Documents to manage the Contractor selection process. The Tender Documents help the Owner to select the best possible Contractor available, and include documents such as the "Tender Document", "Finishing Schedule" and "Notes to Tenderers". The Tender Process includes all of the steps needed to select and contract a Building Contractor, quickly and efficiently.
A Tenders can either be:
Negotiated Tender:
In this method the price to be paid in return of the work to be done is negotiated with a single contractor. Though the cost of a work will be higher in this method, an owner may expect some advantages from employing a particular contractor whose policies and methods are known and who has in the past proved capable of fulfilling his obligations The procedure can be adopted to the owner's advantage if the chosen contractor is one in which the Owner, Architect or the Engineer has confidence, and which is of known integrity and reliability.



Limited competition or selective Tender:
In this method the Owner calls for tenders from a few contractors who are known to have specialized in the special type of work and from whom he or his Architect has, in the past, experienced excellent results. This procedure is usually adopted for private works, where the owner has the right to negotiate directly and to enter into agreement with whomsoever he chooses. This procedure is recommended for the public sector when the work requires specialized knowledge such as Domestic & Commercial Construction work.


A Tender Document assists you by:
Defining the type of Contractor that you wish to appoint
Describing the Materials and Finishing you need
Specifying the deliverables to be provided by the contractor.
Stating your terms and conditions for payment or
Specifying the rules and time frames for engaging with the Contractor
Tender Process Advantages:
• Alternatively not using a Tender Document you may find Builders Quotes ranging from extreme highs to lows
• A Tender Document enables you to compare apples with apples.
• All Tenderers Finishing Items and Provisional Amounts are the same.
• Eliminating constant raising costs later in the project as they may not have been included in a Quote.
• Well informed to make a calculated choice before selecting a Building Contractor
• Attendance Fees on Provisional Amounts and Finishing items are fixed.
• In the case of any variations on the project you can apply the Contractors rates as quoted according to the Tender Document.

3.Contract Financial Administration:
Advantages:
• Accurate draws and claims are administered irrespective of what the Building Contractor requests.
• Speeds up the Final Account which is accurate and hassle free at the end of the project.
• Overall control when it comes to the allocated Provisional sums and guides you to stay in budget
• Updated Cost control during the entire building process
• Eliminates overpaying the Contractor during the entire project.
• Peace of mind whether you are actively involved or not during the building process.
• Keep the Cost of Variations low by using Tender Rates
Services:
• Evaluating of claims from the contractor.
• Attending site meetings.
• Re-measurement of Trades.
• Adjustment of Provisional Amounts.
• Compiling of Variation Orders.
• Calculation of the Cost Effect of Variation Orders.
• Constant adjustment of Provisional Sums and PC-amounts throughout the project.
• Compiling of Final Account.
Monthly Progress Claim Certificates and Reports:
• Evaluating Contractors Claim
• Progress Claim Report
• Progress Claim Certificate
• Payment Summary
• Variation Orders
• Variation Summary
Construction Mortgage Draw Process:
It's a straightforward agreement between you, your builder and your lender that clarifies when and how payments will be made during construction.
With a Draw Process in place, you're all on the same page. Everyone knows what to expect, and you avoid big surprises and unscheduled delays due to cash-crunches.
You're also in control - as much as you want to be. You can manage payments yourself, or you can have funds sent directly to your builder as you sign off on each stage of construction.
What does all this mean for your project? Your builder has access to more fluid funding and doesn't have to rely on a separate line of credit - or rely on your cash-reserves. Payments will be made as work progresses. Flexible funding helps keep your project on track.
Here's how the Draw Process works:
Your builder will draft a Draw Schedule:
Prior to construction process, you'll work with your builder to draft a draw schedule. Generally, funds are disbursed on a percentage-completed basis according to your agreement with your builder. We can advise you and provide the appropriate paperwork. We can also tell you about standard practices and typical expectations.
You manage draws as work progresses.
As work on your building progresses, your builder will require payment or reimbursement for completed construction work.
Your builder will request payments by submitting a Draw Request. Whether you've agreed to an established payment schedule or you're using a more flexible process, a draw request is required.
How is a progress payment calculated?
Progress payments are calculated according to the applicable tender amounts by ensuring that sufficient funds are always retained to complete the building. Build Support values will assess the value of the work completed and calculate the amount of money that must be retained to complete the contract with each progress payment request.
What are the procedures for final payment?
When the builder requests final payment on completion of the contract, the house will be inspected by a valour to ensure that it has been completed to your satisfaction as per the plans and specifications per your contract. You will be requested by the bank to sign a letter of satisfaction.
In addition, a signed copy of the certificate of occupancy, which is obtainable from the Local Authority, and any other documents requested in the letter of grant, must be forwarded to your Bank before a final progress payment can be processed.